Kemp Chiropractic has moved!
The offices of Dr. Kemp are now located at 103D Regency Commons Drive, Greer, SC 29650. Our new location is down the street from our old office. To view a map of the new location, click here.
Quality Care for Over 30 Years, and now offering decompression!
Our gentle and specific techniques allow for us to care for patients with previous neck and back injuries, as well as young children and expectant mothers. Ours is a holistic approach to patient care. Kemp Chiropractic is now proud to offer decompression as an alternative treatment for many serious spinal and back conditions that often lead to invasive surgery.
Schedule an Appointment Today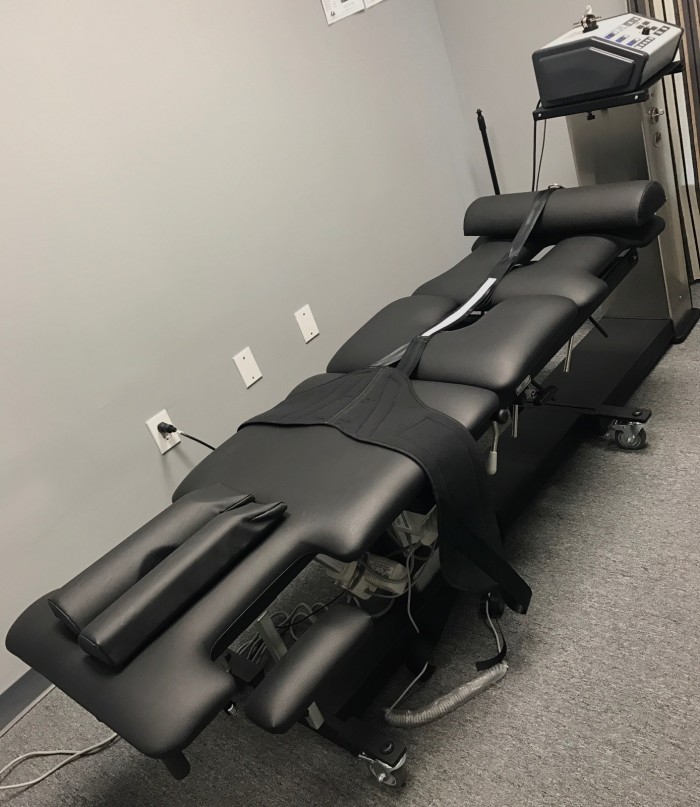 Our Practice
Kemp Chiropractic Center has been providing quality chiropractic health care for 29 years. Our gentle and specific techniques allow Dr. Kemp to even care for patients with previous neck and back surgeries. Our chiropractic services are tailored to the needs of each unique patient. Our services include a holistic approach based on sound medical knowledge. We specialize in over all general health, lumbar disc patients, nutritional counseling and natural hormone balancing. We also treat personal injury patients. At Kemp Chiropractic Center, we believe in promoting wellness through injury prevention and health maintenance.
Accepted insurance plans include:
Aetna
BCBS
Cigna
Humana
Medicare
United Health Care
and Affordable Cash Options
Harness the natural healing power of your body, mind, and spirit. New patients are currently being accepted. We are located right off Pelham Rd. and the Parkway, just right around the corner from Thornblade. The environment at Kemp Chiropractic Center is one of tranquility and comfort. As soon as you enter our office, you will notice a peaceful and easy feeling in the air.
Dr. Monica Kemp
Dr. Monica Kemp graduated from Sherman College of Chiropractic in 1981 and has been serving the Upstate ever since. Dr. Kemp uses gentle and specific chiropractic techniques that enable her to take care of pregnant women, newborn babies, young children and the elderly. Dr. Kemp has many years of experience taking care of people with cervical and lumbar disc problems, including people who have had previous surgeries.
Our Services
Kemp Chiropractic Center treats the body, mind, and spirit. We believe in treating each patient with a comprehensive strategy involving physical adjustments, education, nutritional support, and wellness planning. Our balance of holistic treatment and sound medical knowledge ensure that you are in good hands. We are proud to offer the following services:
Nutrition Counseling (Using Applied Kineseology & Hair Analysis)
Allergy Testing (Food & Environmental)
Hair Analysis (To Determine Nutritional Condition and Heavy Metal Toxicity)
Saliva Testing (For Hormonal Imbalances)
Care for pregnant women, infants, and children
We specialize in treating:
Back Pain
Neck Pain
Disc Protrusions/Herniations
Siactica
Joint Pain
Achilles Tendonitis
Knee Pain
Allergies
Headaches
Carpal Tunnel Syndrome
Whiplash
Sports Injuries
Stiff Neck
Car Accident Injuries
Arthritis
Frozen Shoulder
Hip Pain
Radiating Arm and Leg Pain
Sprained Ankles
Rotator Cuff Tendonitis and Tears
Tennis Elbow
New Patients
Here at Kemp Chiropractic we take pride in our patient care and set aside 45 minutes just for you! You and Dr. Kemp will discuss your health history, concerns and nutritional history.
Please feel free to fax these forms back to 864-848-6188 or email them to kempchiropractic@aol.com. Note: The Nutritional Symptom Survey is for all new patients.
103D Regency Commons Drive, Greer, SC 29650
Contact Us
Use the form below to contact us or schedule an appointment. You may also call the office at (864) 848-6890 to schedule an appointment.
Office Hours
Monday: 10am – 1pm / 3pm – 6pm
Tuesday: 10am – 1pm / 3pm – 6pm
Wednesday: 3pm – 6pm
Thursday: 10am – 1pm / 3pm – 6pm
Friday: 10am – 1pm